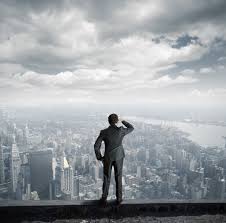 My job identity with my past employer was lost as soon as I walked
out the door. I had plenty of accolades and accomplishments to
be proud of. However, I couldn't live in the past. I needed to move toward
the future. Have you ever been a part of a conversation that began,
"When I was with (insert company name here)…"? It's always good to
share best practices and give people the confidence that you have the
right experience to do a job well, but it can grow tiresome for your audience.
For a more meaningful, productive conversation, articulate how
past experiences relate to what you can bring to the new company going
forward.

Think of the phrase, "What have you done for me lately?" Every prospective
employer wants to know your value proposition. When talking
about the impact you can have, or even when beginning a new position,
ask, "How is it done?" and then follow that up with, "How well is that
process working? Are there improvements that will make it work better?"
You can offer potential solutions without mentioning your prior
company. Don't be the person who identifies themselves too often with
their past company. Your identity should be much more related to your
competencies and experience. Without mentioning the former company
name, you can still mention, "Has the company thought about or tried
any of the following solutions…?" Formulating immediate and long-term
ideas for the kind of impact you can have on the new company will go a
long way and produce something more effective than, "That's the way it
used to be."
Thomas B. Dowd III's books available in softcover, eBook, and audiobook (From Fear to Success only):
Now What? The Ultimate Graduation Gift for Professional Success
Time Management Manifesto: Expert Strategies to Create an Effective Work/Life Balance
Displacement Day: When My Job was Looking for a Job…A Reference Guide to Finding Work
The Transformation of a Doubting Thomas: Growing from a Cynic to a Professional in the Corporate World
From Fear to Success: A Practical Public-speaking Guide received the Gold Medal at the 2013 Axiom Business Book Awards in Business Reference
The Unofficial Guide to Fatherhood
See "Products" for details on www.transformationtom.com.  Book and eBook purchase options are also available on Amazon- Please click the link to be re-directed: Amazon.com
Do you know about Avanoo.com?  Two-to-three minute eLearning programs that can change your life.
When Your Job is to Find a Job—and Yourself