Thomas B. Dowd III's Amazon Authors Page
Go to "Products" or Amazon to pick one up today!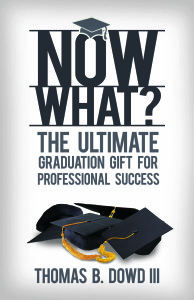 Now What? The Ultimate Graduation Gift for Professional Success
"A light-hearted and fun, yet practical, read that keeps you turning the pages. Dowd delivers once again with a useful, creative book – this time he takes a new turn and speaks to the graduate. The book highlights strategies and practical moves for the graduate, ensuring a successful transition as he heads into the "real world". A great gift for many – I plan to purchase a few of these for nieces and nephews graduating college this year." BC
"Fun book … perfect gift for those about to embark on the transition from a school setting to the beginnings of a career. The advice is all about the myriad of ways to proactively engage in the job hunting, job getting, and career building aspects of starting out. The book covers everything from how to interview for a job to how to work with difficult co-workers and come out a winner. The author bundles his advice into theme based chapters and keeps it short, simple, and light hearted …. perfect for those reluctant to take advice or invest a lot of time in gaining highly valuable insight into the next chapter as it begins. Quick read and well worth the time." – KMitch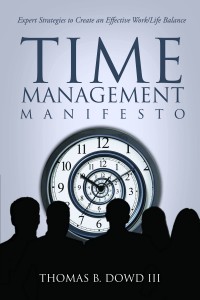 Time Management Manifesto: Expert Strategies to Create an Effective Work/Life Balance
"Wow! This powerful, practical book shows you how to get your time and your life under control— immediately." – Brian Tracy, author of Ultimate Sales Success
"As I balance the time crunches of having different hats including husband, father, radio host and football analyst, I know the constant effort needed to balance work and life.  Time Management Manifesto is an effective and easily digestible book to remind readers that it can all be done well." – Rich Gannon, 17-year NFL QB, 4-time Pro Bowler, NFL MVP, Sirius NFL Radio & CBS NFL Analyst
"Time Management Manifesto truly, is phenomenal. And inspirational. And instructional. And a whole bunch of other adjectives—I was truly blown away, yet again."  – Jen Blood, author of the Erin Solomon mysteries
"The Time Management Manifesto book is a breath of fresh air. I love the way it says in the introduction that it contains no secrets. Rather, it is brimming with sound, practical advice. Its brilliance is also in its brevity. So many personal and business development books these days are bigger than they need to be. This book contains 30 wonderful time management nuggets. Read just one a day for a month and your relationship with time will change forever. Although, you can read the book in next to no time, it is a book that you will want to dip into time and time again." – Tom Evans, author of The Zone and creator of Living Timefully
"As an author and self-proclaimed student of inspiration, I've been inspired by many great motivational authors over the years. When it comes to the subject of time management, Tom Dowd's book Time Management Manifesto is among the best.  Time Management Manifesto delivers and inspires, and in my mind this book puts Tom in the class with the great Stephen R. Covey." – Dominick Domasky, Motivational Speaker, author of Don't Double Bread the Fish 
"Time Management Manifesto is a must for the busy professional. Though my family would say otherwise, I've always fancied myself as someone who is effective and efficient at scheduling time and activities. But as I read the Manifesto, I saw glaring grievances of how I'm actually wasting productivity in my day. I now admit it…I've been an email junkie! We all get out of sync sometimes and Time Management Manifesto helps to put our priorities back in proper perspective." – Doreen Lecheler, Transformational Thought Leader, Best-Selling author, The Mind to Heal
"Very few situations in life flare up the stress hormones in the body more than too much to do and too little time to do it all. To manage your time successfully is an art that requires a 'how-to' skill set. Tom Dowd offers readers practical how-to solutions to accomplish an innate desire of any working professional: do more in less time, without all of the stress. This is a powerful read to help you work less and have more." – Lauren E. Miller, Author/Speaker/Founder of StressSolutionsUniversity.com, LaurenEMiller.com
"I found the book to be very wise, practical, beautifully prioritized, and honest! The most precious of all moments is NOW.  In Time Management Manifesto: Expert Strategies to Create an Effective Work/Life Balance, Tom Dowd offers a tremendously practical and simple formula to get off of the endless and empty road called "as soon as" and truly make the most of the now.  In today's technologically accelerating world, simple is genius.  Dowd helps us create momentum in our lives with simple, clear principles that will make your days richer, fuller, and more balanced." – Brian Biro, "America's Breakthrough Coach"
"Tom Dowd effectively describes how time management skills can be developed as a way of being kinder, gentler, and more honest with oneself.  By being self-aware, a person becomes more powerful, and Time Management Manifesto: Expert Strategies to Create an Affective Work/Life Balance is all about consciously behaving in ways that put you first while also improving your relationships and avoiding stress, shame, and guilt."  – Heather Hans, LCSW, MSW, MBA, CPIC, author of The Heart of Self-Love: How to Radiate with Confidence"
These are practical tips for today's fast-paced world. Just a title of any tip, like 'Blending Work and Life Schedules' gives a hint maybe your daily schedule is in need of a tune-up. The book is solid in tried-and-true time management principles and relevant to today. Dowd's book is an asset to help get better charge of your time, and get an energy boost in the process." – Patricia Weber, author of Communication Toolkit for Introverts
"Tom Dowd's Time Management Manifesto grabbed my attention from the beginning because of Tom's down-to-earth style, honesty, and stories that bring each point home. As someone who has facilitated and attended many time management programs, I found one key thing that makes Tom's book stand out from the rest—it was balance. Many books and programs can help you cram more work into your day. However, Tom's approach is to help the reader create a balanced life; the only way to achieve true productivity. Tom not only teaches the practical elements of time management, but helps the reader truly understand each concept by presenting the psychology behind it. A must-read for professionals seeking to achieve real work-life balance." – Amy Castro, speaker, trainer, and author of Practical Communication: 25 Tips, Tools, and Techniques for Getting Along and Getting Things Done
"Tom's latest book on how valuable and precious our time actually is to us is spot on! Successful people are the masters of their time and are exceptional time managers… always." – Don Holbrook, author of The Next America 2nd Edition
"Time Management Manifesto by Thomas B. Dowd III is well written and divided up into several short chapters that are packed with useful information. As I read through each chapter, I was able to identify with the issues he mentioned and the solutions he offered worked! My favorite chapters in this book were "Sleeping Better" – "Investing Time To Save Time" – "Setting The Alarm" – "Creating Time For You"…Sleeping Better – I have always been one that could not shut down when it is bedtime and Thomas' suggestions has helped me to get a good night's sleep every night. Now I am able to concentrate better and have a more positive view on life and the challenges that may come our way each day. Investing Time To Save Time – When I first saw this chapter's title I knew I was in for some enlightening information. This chapter helped me to save time each day as I am famous for always being behind with my work and personal projects. Now I am able to relax and maintain my sanity and reduce my stress and worry. Catchy title!!!! Setting The Alarm – As we all know, the "snooze" button is there for us to keep clicking on those mornings or nights when we feel we need those extra moments. After reading this chapter, that habit has changed for me and I also have formed some new habits thanks to Thomas. Our alarm clocks can either benefit us or hold us back from the exciting things our day has planned for us. Thomas discusses several alarm clock issues and you will love his suggestions! Creating Time For You – I have always known the importance of having some ME time each day if I am going to remain "nice" – but getting this time has always been a daily challenge. Thanks to Thomas I now have that daily ME time and I have found that peace of mind that comes with being relaxed and interacting with people in a more positive way. ME time helps us to recharge and enjoy life more. People have already noticed the change in the way I am interacting with people in my personal and professional lives = I have more patience. This book is a must read for anyone who would like to improve the quality of their professional and/or personal lives. I know I have benefited in both and plan on reading more books by this author. He is talented and continues to live what he writes about." – Angela Shirley
"In this age where all of us are bombarded with 'too much information' Tom Dowd reminds us there is hope.  This practical and doable guide gives us the opportunity to create our own processes to manage the barrage. His tips are incredibly useful and applicable immediately. I highly recommend this important manifesto to help achieve success both at work and at home." – Wally Hauck, PhD, author of Stop the Leadership Malpractice: How to Replace the Typical Performance Appraisal
"This Manifesto is perfect for the busy professional, the busy mom and for anyone who struggles to keep their day on track. I loved the emphasis on being realistic when setting deadlines, as too many of us tend to underestimate the time needed when we are striving to be the top performer in the boss's eyes. We end up sabotaging our own efforts!" – Nancy Powell Bartlett, author of The 180 Rule for Accountability
"Tom's book Time Management Manifesto: Expert Strategies to Create an Effective Work/Life Balance manages the balance of easy-to-read and effective teaching tips with an effective simplicity. Time spent learning from Tom will make you more efficient and stress-free immediately. – Lynette Louise, The Brain Broad! Internationally renowned author, composer, radio and TV host, brain therapist for intentional change
"This book should be read by anyone aspiring to reach goals or just become better at managing life. The best part of the book is the author's clear and concise way of explaining each chapter. The length of the book is perfect and really stays true with its title." – Bobby Lewis
"Tom summarizes the key to time management as, 'Time Management is a disciplined mindset to be able to live in the moment while working toward the future.' He then describes how to apply this philosophy to our own work and personal lives. Even at 80 years of age, I find his suggestions pertinent and extremely helpful." – Jim R. Olson, author of 4 Star Retirement-2 Star Budget"Tom's book fascinated me from the very start through to the very end. It was full of captivating lessons, directly applicable to my life as a trainer and public speaker. There are two powerful statements that resonated in my mind after reading the book, 'I own my twenty-four hours each day—I don't rent them,' and, 'If you can't manage your time well, you'll be playing catch with one of your kids one day and your mind will be elsewhere trying to remember what you need to do next.'" – Vaida Bogdan – Experiential Trainer in Time Management and Personality Typologies
"Tom has done everyone who doesn't have enough time in their day a big favor with Time Management Manifesto.  Wonderfully short, this little book is packed with great practical tips for maximizing the 24 hours everyone does have." – Kita Szpak, Happiness Expert and Speaker, author of The SIMPLE Life: Shiny Objects Not Required
"Tom Dowd's book has many great strategies and ideas.  The common thread is 'Take Control!'  We have the power and it is up to each of us to make it happen.  Thanks for the reminder, Tom." – Julie Ann Sullivan, The Attitude Enhancer
 "A very well written book of practical ways to help us manage our time. The Author writes these tips from his own personal and professional successes. These practical ways will help everyone to manage their time and personal life's better."- Lady G
"I recommend the book to everyone who wants to learn some vital lessons to be productive in a day to day basis. It is very useful for busy people that want to find the balance between social and business life. Clear, effective and simple.
Thanks Tom :)" – Javier Abasca
"I knew I needed guidance. I knew I let my calendar manage me. I know I can achieve a better balance. This book provides direction, not a bunch of, "Do this., Do that.", which again takes away from your ability to manage your time. Direction puts YOU into the drivers seat. YOU set the parameters of what you feel are priorities, not someone else…..especially not a book. Tom gives you insight into his experiences and what he coaches/teaches. A great way to use the technology at our disposal to help manage your time and focus your attention where it needs to be. Work-Life Balance is not always 50/50. Sometimes it's 80/20 and next week it will be 20/80……learn to prioritize!"- Jennifer M. 
"Having been out of the corporate world raising kids for the past 19 years I wondered if this book would have meaning for me. Soon enough I found myself shaking my head "Yes!" at Mr. Dowd's very straightforward approach and his solutions to countless issues facing today's world. The book resonates for the executive, the mid-level staffer, those just starting out and also, surprisingly, to those of us who have 'been there' and are now overwhelmed with family schedules, volunteer opportunities, and part-time jobs." – BCWell done, easy to read and absorb – Time Management Manifesto will have you making positive, actionable adjustments to your work day whatever you do. Hoping Mr. Dowd has more magic in the works.
"Tom provides another great book from his personal and professional successes in practical ways to integrate a variety of ways that will help even the most 'seasoned' professional manage their time. These strategies can also benefit how we manage our personal lives and time." –JMC
"Time Management Manifesto is comprised of 30 chapters, each giving an actionable piece of advice. The author provides real-life examples from his own experience to illustrate his points. The author's main advice is to keep a detailed daily schedule. Other helpful hints include: double the time you think it will take to do something, under-promise and over-deliver, stop multi-tasking, file things immediately, learn to ask for help before it's too late, and make sure you have some "do not disturb" time. All of the tasks in the book are simple and easy to implement. I started straight away. I work from home, so I found it helpful to set up a detailed daily schedule, including both family and work commitments. The most helpful hint for me was to "touch each email only once". I also plan to incorporate some self-improvement time into my schedule shortly."    – Lynda Dickson, Books Direct
"Surprisingly, this awesome book has done more than the norm in a very unique style. Straightforward and well-focus from beginning to end this mind blowing book is thrilling with valid strategies to get the most out of your day. Indeed this useful and practical book is a must have as it elaborates on applicable methods geared to maximize your time every day. I love it!" – Nita
"Superlative is the true word to describe this innovative guide. It is well-packed with the frame work to help us management our time effectively. The author has carefully crafted each sentence in a very understandable manner, thus implementing the strategies aren't difficult. Surely it is well written and organized. I am totally impressed with the author's profound perspective of the use of time. To top it off, thought provoking advice and insightful tips that makes good sense were revealed!"  – Janio
"This book has really opened up my mind towards the manageability of time. One thing everyone need to understand is time only flows in one direction. It just moves forward. It can never go backwards. Thus, the moment passed right now will never ever come back, thus it is very essential that you make the best of every moment. Don't wait or keep on delaying work as you are wasting precious time of your life!" – James
Displacement Day:  When My Job was Looking for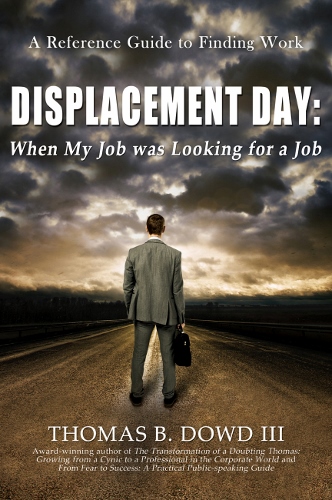 a Job…A Reference Guide to Finding Work
"As a professional football player, I understood the pressure I could feel on the playing field if I didn't know the plays.  What do you do when you're out of a job or need a career move?  Buy "Displacement Day"—Tom Dowd wrote the playbook for finding a job.  Today's economy has unemployment on the top of all of our minds and whatever we can do to get people on their feet is important.  That's why I recommend this book to anyone looking for a job, know someone looking for a job, or simply need a professional spark.  These 184 pages of inspiration and support may be all that you will need to face your challenges head on." – Rich Gannon, 17 year NFL QB, 4 Time Pro Bowler, NFL MVP, Sirius NFL Radio & NFL on CBS Analyster, NFL MVP, Sirius NFL Radio & NFL on CBS Analyst"Because of such market factors as economic downturns, outsourcing, advancements in technology, corporate consolidations, union busting, and more, being laid off or 'downsized' is an all too common experience for men and women in today's workforce ranging from blue collar to white color employment. Today, no one is guaranteed a lifetime job short of being a justice on the U.S. Supreme Court. That's why Thomas Dowd's "Displacement Day: When My Job was Looking for a Job" will prove to be such an invaluable and instructive read. Basically a practical, 'real world', reference guide to finding work, "Displacement Day: When My Job was Looking for a Job" is a 184 page compendium based on the author's personal experience and years of expertise. Of special note is the section devoted to 'Maximize Your Soft and Hard Skills'. Informed, informative, and thoroughly 'user friendly' from first page to last, "Displacement Day: When My Job was Looking for a Job" is strongly recommended for personal reading lists and community library Jobs/Careers reference collections." – Midwest Book Review (May 2013), Small Press Book Watch   Midwest Book Review
"Displacement Day is a manual for finding a new job. With sage advice and a compelling narrative, Tom Dowd has delivered a book that's both practical and enjoyable to read." ~Adam Grant, Wharton professor and bestselling author of GIVE AND TAKE
"As a blogger for moms, I wouldn't have immediately thought to pick up "Displacement Day," but my husband was going through some instability at work and I was reentering the work force albeit part-time. In short, we weren't a family in crisis but we were definitely in flux and feeling the uncomfortable funk of a new uncertain future. We were in desperate need of a friend or a lifeline. We found both in this book. I really enjoyed the anecdotal narrative of the author's journey of getting through the aftermath of losing a job, but what I really appreciated was the immediately actions he laid out that helped to turn the tide in his favor. Dowd's overall message of staying positive through difficult times struck a chord with me that affected not only how I spoke with my husband in his darker days but the lens I used on mine. I so appreciated the specific easily implemented recommendations that, paired with a positive message of overcoming obstacles, staying positive, and leaning on your support system, changed our outlook and the overall atmosphere of our home. We were people in the midst of some uncertainty, yes, but we had tools and we had each other. We were going to be just fine, and now months later that positive outlook has turned a hope into a self-fulfilling prophecy. Thinking of how this book helped my family and our journey, I also thought of the impact this book can have on recent college graduates as they start to hit the real world. It's an uncertain economy and future but this book gives hope and real tools to use. This book could also be really great for parents to help support their children's efforts. In short, this is a read with many practical applications and a breezy, accessible read as well. I highly recommend it." – Erin of Sisterhood of the Sensible Moms
"This book shows you how to get the job you really want in any market, at higher pay than you might have thought possible." – Brian Tracy – Author, No Excuses
"Tom masterfully takes the readers on an emotional and motivational roller coaster that will relate to anyone going through the pain of losing a job. What sticks out most is the quick transition from empathy to action.
The specific direction from the author leads to a path of success." – Justin Sachs, Best-Selling Author of The Power of Persistence and Ultimate Business Mastery
"Tom's latest book is full of golden nuggets of wisdom, insight and common sense advice. Open any page and you'll find something to help you live more purposefully and lead more bravely." – Margie Warrell, Forbes Columnist, Bestselling Author of Find Your Courage and Stop Playing Safe
"I like to say that 'a setback is a set up for a comeback.' Tom Dowd is living proof of this! In Displacement Day, Tom shares his formula to come back from job loss. This isn't a theoretical book, it is the author taking you on his professional journey through job loss using the formula he very successfully applied. Lots of people talk the talk, what I respect most about Tom is that he WALKS THE WALK, Displacement Day is further proof of this!" – John Brubaker, Award-Winning Author of Seeds of Success and The Coach Approach
"With a perspective that is both empathetic and down-to-business, Tom shares his successes and lessons learned from his our journey after being downsized. Tom shares clear examples of what does or doesn't work (and why) in networking and conducting a job search." – Margaret M. 
"I'm a big fan of the process of networking. Having been part of Networking groups my entire sales career, I have seen first hand the difference it makes. When I first heard of Tom's book, I knew I could learn from the section dedicated to the art of networking—and I wasn't disappointed. However, I also was pleasantly surprised with how relevant the rest of the book was on how I can better influence businesses and people around me. Tom provides real world examples that are easy to understand and incorporate. I look forward to reading other books from Thomas B. Dowd." – Brian Heath
"Success is contingent on clearly knowing what you want and coming up with an action plan that will get you there." –Tom Dowd      Mr. Dowd clearly and repeatedly states the importance of planning in his new book, Displacement Day. He provides the reader with a purposeful approach to keep at it–whether it's searching for a new job, or personal brand strengthening while already employed–and the "how" for doing so efficiently and effectively. In the same easily accessible short-chapter format of his two other professional development books (both of which I recommend), he provides an experienced look at how one should navigate the various avenues and technologies that are necessary to find the job you want while also being able to detect opportunities you weren't looking for. A wonderful bonus is the six-page section at the end on what interviewers across a variety of industries are specifically looking for. Having a thorough understanding of the interviewer's objective and game plan will help you stand out among the masses who are applying for the same exact position you want." – Carmine
"Thomas Dowd has captured the sense of fear and doubt that comes with losing your job. More importantly he has defined a way to take one of the biggest situations of your life and turned it into the biggest opportunity of your life. This book is a must read for anyone who has been downsized, right-sized or removed from their position. Following this process you will find hope, purpose and success." – Ron Finklestein, International Author, Sales Coach and Creator of the businessgrowthexperience.com
"As a subject-matter expert in the use of LinkedIn and other tools needed to succeed in the business world, I was highly impressed with how the author simplified the approach for people looking to build a plan to find a job. We are fortunate today to have conveniences, such as social media, to assist us, but many people still ask, "How do I start?" Mr. Dowd shares the power of this potential outreach while giving readers the confidence that they will land in the right place and find success." – Donna Serdula, author of LinkedIn Makeover: Professional Secrets to a POWERFUL LinkedIn Profile
"I'm going to buy several copies to share with job search clients. Tom's storyline puts perspective on the job search journey while providing realistic and tangible job search tips that will prove helpful to anyone. Tips
that I found especially important: network, network, and network some more; turn your passion into your career; let go of your past; and, "Apply if Greater Than 50 Percent" (I really like that one!). Thank you, Tom, for
sharing this valuable advice and personal journey in this useable format!" – Mary Kozicki LaFontaine, Manager, Lewiston (Maine) Career Center
"Tom Dowd has first-hand experience of his subject and writes with both clarity and expertise. In today's world where wannabes are plentiful and the blind pretend they're qualified to lead the blind, Tom's competent
focus on doing what works is exactly what you need to find a new occupation." – Cris Baker, Author of Self-Sabotage? What it is, Why we do it, When we do it, How to Overcome It! and What you Resist, Persists!
"Displacement Day is a must-have book for everyone because history has proven that we never know when our day of unemployment is coming. Tom applies his extensive coaching skills to create a comprehensive guide to one of the greatest professional challenges we can face, losing a job. He details every step in the process of moving forward in your career and in life!" – Neal Williamson, HR Professional
"Displacement Day is transformational. Just when you thought the pink slip was a ticket to the unemployment line, you realize instead that it's a golden opportunity ticket. This is the beginning of a new journey and your career guide. Thomas Dowd is here to help you focus on your new role of finding and connecting to your next position. With practical, real world tips and insights, Dowd shares his success strategies during a challenging time all while keeping your head held high. If you are like many professionals who have been through corporate reorganizations, sudden changes, or part of the business landscape that is shedding old paradigms and blooming with new innovative growth, make the commitment to be bold, step out of your comfort zone and move forward with confidence knowing there is a bright future ahead of you." – Stephanie Checchi, Channel Marketing Program Manager, CA Technologies
"I'll be one of the first to say that I personally benefited from this book! There are some books that I read having to do with a variety of subjects – but this one was HUGE in helping me move forward with my career. I had been at the same company for 15 years. I liked my job – but wasn't getting very far and the advancement was drying up in my department. I originally got the book to help me understand interviewing better and stuff about resume's. What I ended up learning, is that there's a whole world of opportunity out there and I was only hurting myself by not looking at it. MOVING ON IS A VERY DAUNTING THOUGHT. But, what I learned is that Tom was put in that position of job finding involuntarily – but HE DID IT. His book was motivating and informative. As they say, I put my ducks in a row preparing and investigating the potential market in my area. I really took a loooong look at who I was and what I liked. Then I applied, interviewed and landed the best job! The greatest thing about this book is that you don't have to read it cover to cover. Do what I did, read the parts pertinent to you and your current stage and then continue when you get to the next step in your career search! Tom's book covers a wide variety of subjects, thoughts, and situations. I really appreciate that this is first hand experience. I can honestly say that I've ended up reading this book 2-3 times over and I can honestly say I'm not sure where I'd be today without it. Please get the book, read it, motivate yourself, and if you don't have any life changes today – at least you can be prepared for the future and make sure you're not passing up on the career of the century!!"– Amazon Customer
"Displacement Day is not your average self-help business resource, just as generosity is not a word that jumps to mind when thinking about out-of-work job seekers. But Tom Dowd has been on both sides of the hiring desk, and generosity informs his work and this book. Realizing that even out of work you have much to offer others in the same boat, as well as to everyone in your network, may come as an invigorating revelation to many a disheartened job hunter." – Hannah Tays, Food Industry Professional
"Having stepped out of the examples that Tom has outlined so well, I can now relate to some of the mistakes I could have avoided had I used Displacement Day as a reference. I will recommend this book to others in the professional world as a terrific reference tool. Many of the tips Tom outlines we know but in the "heat of the moment" forget. This would serve as a good reminder of those important baby steps we all should be preparing for – well in advance of 'D-Day'." – Karma O'Donal, HR Professional, Camden, Maine
"Displacement Day is a great example of the power of networking and the critical positive mental attitude it takes to deal with a corporate downsizing and find a new job/career in today's environment. Social media like LinkedIn may have changed the tools used today but nothing is a substitute for preparation, due diligence, and determination when making a career change." – David Ciullo, President of Career Management Associates and the Host of the national HR Power Hour radio show
"I think Thomas has given us the toolbox to take some of the panic out of being displaced in our work. I like the matter of fact process he has given us to continue on and treat looking for a job as your "new job." Being organized and thoughtful during the process of job searching, and being prepared before it even happens is critical to success. I have now updated my own information and have begun building my personal board of directors so I will be ready. This book should really teach us to not get to comfortable and work hard at constantly trying to improve. Great tool to have." – Jasen Wood
"Thomas B. Dowd III is no ordinary motivational speaker and author. He has learned his lessons the hard way. He suffered the ignominy of being displaced. His book Displacement Day: When My Job Was Looking for a Job, captures the shock of losing a long-held steady job with the painful and difficult task of finding a new job. While that is something many people have been through, what makes Tom's case different is the insights and suggestions he offered as he tells his story.  Displacement Day: When My Job Was Looking for a Job by Thomas B. Dowd III is not only a hands-on reference guide to finding just about any available work out there. I is far from that. Tom's book is a toll to help you find the best job for you by providing concrete and actionable ideas through well-crafted and meaningful chapters like Dust Yourself Off and Get Started, Cast a Wide Net, Dig Deep into the Process, Use All the Tools in Your Toolbox, Keep Moving, Maximize Your Soft and Hard Skills, Effective Tools from Powerful Professional and Transformation: Unleashing Leadership Program. What is particularly delightful about the book is the incorporation of appropriate chapters from the author's book The Transformation of a Doubting Thomas: Growing from a Cynic to a Professional in the Corporate World, a book detailing Tom's own professional growth based on lessons learned in his career. This particular book received honorable mention in business 2012 New England Book Festival. Readers will find this inclusion very helpful. Tom is also the author of a book called From Fear to Success: A Practical Public-speaking Guide which received various commendations – Gold Medal 2013 Axiom Business Book Awards, Honorable Mention 2013 Paris Book Festival & 2013 NY Book Festival." – Khamneithang Vaiphei 
"After being displaced from my current job and approaching my search like a project, I thought I had a recipe for success. Two months later, I was still looking and needed help. I had read another book by this author, (Transformation Tom) and decided to give this a chance, it really helped. In short, it reinforced many of the approaches I was already using and introduced me to some new ones. The part I liked best was, it simply organized me into treating my search like a project but keeping me focused on what was important. When at times I became discouraged, I referenced a couple chapters I had yet to read and it really turned things around. I actually found a new job by using an approach mentioned by the author, by sending out 20 emails to contacts every day advising them of my search. I made it through my 60th email, or 3 days when I received a call that ended up being my hiring manager. In summary, this book distills your approach down to succinct chapters that really help keep your search be manageable." – Caddis
"I thoroughly enjoyed this book! Thomas Dowd does a wonderful job of leading you through the entire process of the loss of a job, the acceptance of that loss and then the steps to take to find that next career. The chapters are short and poignant. The information that he presents is relevant and understandable. This is a book that you could read in one sitting or take it in smaller bites if you choose. I would certainly recommend this book to anyone who has lost a job for whatever reason as it provides a great framework for your job search. I would also recommend that if you have the opportunity to attend an event where Thomas is a speaker, please make every effort to be there. I have heard him speak at an event and I was very impressed with his presentation and charisma." – William R. Anctil 
"I gave this book 5 stars! This is my first time reading a book written by author Thomas B. Dowd III and I am now an avid fan of his – cannot wait to read his other books!!! This author took the time to document his journey through one of life's surprises – in this case, job loss. Every day we are all faced with this possibility with the worldwide recession still hanging around. Mr. Dowd's book is a must read for anyone – whether you are still employed or not (fired, laid off, quit). Knowledge is power and I am so glad I read this book as I now know what I need to do if I ever lose my job. I have been laid off 3 times in my life and wished I had read this book back then. Why? It would have saved me a lot of unnecessary stress and total waste of time. Bottom line, losing a job does not have to mean losing everything as Mr. Dowd has proved in his book. There are both negative and positive sides to searching for a job and you will find the positives outweigh the negatives after reading this book. Hats off to an author who cares about his readers and took the time to write this book for us." – Angela J. Shirley
"Displacement Day begins with a somewhat disturbing scene and ends on a happy note, with Tom and his family breathing sighs of relief. As I read this book I had two recurring thoughts: 1) Tom did approach his job search as one should approach every job and 2) we are fortunate that he had the presence of mind to keep contemporaneous detailed track of his activities and thoughts so we can benefit from this effective first-person account. There's nothing like someone who has been through a challenge and come out the other side to inspire others to do the same. Tom's experiences and advice are relevant to all job seekers no matter their fields or levels of experience. When you undertake searching for a job the same way you do a job when you have it, you'll increase the likelihood of getting an offer you'll be delighted to accept." – Susan Trivers, "The Speaking Coach"
"Tom has done a great job in capturing the process and preparation necessary to land that next career move whether it is a planned move or not! He has been careful to share what is needed from not just the job seeker's view point, but from what others expect from the job seeker, from the first interviewer to all those that you may come into contact with during your search." – JMC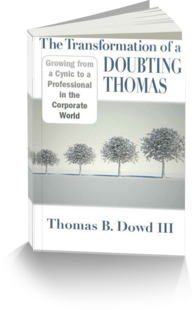 The Transformation of a Doubting Thomas:  Growing from a Cynic to a Professional in the Corporate World
"Tom Dowd's book "The Transformation of a Doubting Thomas" is a truly motivating work with step by step instruction from personal experiences. He guides every reader though his personal journey to where he is today and provides the training map for others to do the same. I highly recommend his book and promise you will not be disappointed!"- TLW
"Tom, it's not very often that I read a book a second time but I am working on my second trip through your book.  It has left a lasting impression on me.  Thank you for your candid look at the work life!"- Jean
"Working in corporate America, the author recognizes the value of taking ownership for oneself and differentiating performance through positive leadership. Mr. Dowd does an exceptional job illustrating his journey and providing a burning platform for others to take stock and drive change to reach their own potential. The simple yet effective tool box he illustrates can be applied at any level in any industry to create self awareness and drive action." – Bill Bowlsbey
"Great book, tells some real good stories and provides great advice on navigating the environment in corporate America and making sure you are recognized. Plenty of good tips in this book about tracking your own performance. Made me open my eyes on how well I do in tracking my performance." – Caddis
"The Transformation of a Doubting Thomas by Tom Dowd is a pragmatic and insightful look into the dynamic conditions of the corporate world. Dowd's honesty about his own attitudes and feelings, crafted in short stories of highly relatable real life experiences, enhance the readability of the book. Each of the stories can be read in a couple of minutes, a small investment in time. The short story format is an asset in that it is easy to develop a daily practice to pick up the book each day to read a story or reread a story that has particular relevance in your personal job or life situation of the moment. The author's journey clearly illustrates that corporate environments change with the ebb and flow of economic conditions, turnover in management, and job changes imposed by technology. Rather than viewing such changes as obstacles, those who remain flexible and adaptable to the changes and view changes as opportunities, will find that they can successfully navigate corporate rough waters. Key insights include: Feedback, both good and bad, is valuable information and networking is a necessary investment. The book is peppered with stories to illustrate how attitudes and behaviors can transform individual working relationships into a community of mutual support. Corporations require a can do attitude to solve problems and create a positive experience with clients and customers. It is much easier to accomplish this when employees are positive and mutually supportive of one another." – Cheryl Anne Lampshire, DM Author of Effects of leadership behaviors and communication channels on global intra-team relationships and Heart Hound Stories.
"Loved this book. Tom tells wonderful stories about how to find your own voice in a large corporate environment; a quest most of the people I have worked with through the years have struggled with. Tom's candor and hindsight is at times humorous, always insightful, and through it all lays the pathway to success. In a large corporation it is too easy to have your path directed by others…great to read a book about someone who did not like the path as it was evolving, took a long hard look in the mirror, changed his behavior, and took control of both his results and his success. Great book … quick read. .. makes you evaluate your own story and how you can take responsibility and control for your own path." – Kim Mitchell
"I've worked in the corporate world for about 15 years now.  I thought that I had a firm understanding of how things work and what to do to be successful.  I figured that knowledge is power and so I decided based on other reviews that this would be a great read and hopefully I would learn a thing or two. Right off the bat, there was valuable information just within the table of contents.  As I was looking through it, I realized that there were some things that I hadn't even considered to be important.  I almost started chapter jumping as I looked quickly at the content. I kept my composure & read through.  I really like the way the book is set up, it's very logical, but I think that any chapter could be read independently and it would still benefit the reader.  More importantly, I learned a LOT.  I really enjoyed the stories about candid situations and people that Mr Dowd had experiences with.  Each chapter had a kernel of truth and insight that I really enjoyed. Instead of being the stuffy world of business – it was more about interactions and learning. I highly recommend this book especially for those people like myself who would otherwise think they know everything!." –
Gary Boynton
"I felt inspired after reading this book. It's helpful to hear the author's candid journey and take away insights that can help our careers." – Carmen Felix
"Having known Tom, I can see that this book accurately reflects his struggles and triumphs.  The book is easy to read and clearly states the lessons learned that are related in the anecdotes shared.  If you want to learn how life events can become learning moments, buy this book." – Bill Packard
"Tom's "tell it like it is" approach was refreshing and realistic. Whether just starting out in your career or a veteran of many years – this is a must read book! It's jam packed with valuable lessons followed by, often relatable, anecdotes. I originally read the book from cover to cover and now I find myself returning to many of the chapters just to give me a refresher or to motivate me. The lesson's that he has learned during his career can be used in anyone's career and can also translate to outside of the office. What I like most about this book was that it is chock full of practical advice that you can implement immediately. I personally have taken many notes from this book and have put a lot of his advice into action. What's best is that I am seeing results. But don't take my word for it – read it and find out for yourself." – Joe
"This book about a "transformation" was really a reality/gut check for me. As we all navigate through our professional careers, we can get lost in the glut of nameless drones who have little to no drive. We become those who have forgotten how to innovate and celebrate key new approaches and ideas." – Danielle J. Bentley
"Since much of my adult life, I've been bi-vocational, public speaking has been essential to me. I've been an ordained minister for 35 years & in public & private education for 42 years. Too, I'm in my 12th year operating my small business. Naturally, transformation has take on multiple meanings for me as I've related to so many in and out of the church, the classroom & my business. My book shelves have endless motivational & business management texts, educational books & materials, & theological texts and studies. I now include one of yours, The Transformation of a DOUBTING THOMAS. Your construct, your professional text is motivational, authentic & personal,
and thus provides opportunity for a high degree of success in many venues through transformation, a lifelong process, but nevertheless, essential to walk with deliberateness & planning, as you so capably instruct in your text. The parts of your book that most intrigued me, Tom, are when you willingly & honestly share your personal story, your personal vignettes …thus becoming open, present, & vulnerable & allowing me to do the same! And, as you state in your epilogue, "What Now", I fully appreciate that your journey continues! It always will with such inspiring drive! Thank you for sharing this text." – Jerry Stone, owner of Stepping with the Stones
"The subtitle of this book, "Growing from a cynic to a professional in the corporate world," is an extremely important message, and this book gives the reader a perfect blueprint on how to achieve such a daunting goal. At once, it describes both Mr. Dowd's personal journey as well as the trials that anyone who wishes to push past mediocrity in their own lives will have to face. The book sets out to teach, and at that it succeeds. I appreciate the distillation of each lesson: there's a grand idea, a personal experience backing up the idea, and key takeaways on the idea. Mr. Dowd manages to set on paper over 60 different lessons using the aforementioned structure at an average length of three pages per lesson. This is astonishing in and of itself because it enables the reader to reference a pressing matter and immediately find guidance from an author who's been there himself–and that from the myriad difficulties one could encounter in a corporate workplace! I'm an entry-level professional at a Dow 30 company, and I've been able to regularly use many of the teachings in this book to recover my balance when I feel myself taking a turn down the road to cynicism. I have also gained some best practices that I've used on short-term projects which have helped me to stand out from among my peers. And I've learned how to get the most out of my interactions with others, from subordinates to peers to senior leaders. This is a tremendous book and would make a fantastic "on-boarding" manual for new hires at any company. Let's be honest, an entry-level worker in almost any field will often develop a cynical mindset at some point in time before their first promotion. To grow away from that tendency is to see the bigger picture that not only helps the individual chart a long-term career arc within one company, but it also helps the company retain every individual it ever hires, enabling it to become an exceptional place to work. Thank you Mr. Dowd."- CARMINE
"Tom's engaging writing style and common sense approach to tackling situations in the corporate world is a refreshing read. Although the title speaks of the "corporate world", many of his suggestions and methods can easily be implemented in the small business sector (of which I am a part), as well as in one's personal life. The idea that a person's potential for growth within their profession is often entirely up to their attitude and interaction with others is an invaluable lesson that many can benefit from. It is impossible to walk away from this book without learning something valuable from it." – T. Rothwell
"Tom, Wow! This book is lifting my spirits, bucket-fulls of healthy positive (not Pollyanna) but real valuable perspective about how to see yourself objectively, in the work-place. I love the small chapters, so very concise and poignant. I am gaining the courage to pursue what I know I am capable of in the corporate world, and beyond. Thank you for this most excellent study on how you got out of your own way to build a thriving career. Many will benefit from your insights and advice. This is great stuff. Love it!" – Mitch from Maine
"After reading his books, I learned that he had gone through many trials and tribulations to get where he is today. The book motivated me to stay true to myself, don't listen to doubters, and to always believe that you can do anything if you stick with it. I have auditory dyslexia, I could relate to many of the things that Tom wrote about. This book is helping me to become the person that I always wanted to be. This book is easy to read. Love it and I do recommend it." – FullofJoy
"'Transformations' provides engaging examples for success from the author's own experiences. Reading this book will help you to identify opportunities to communicate better, successfully move outside your comfort zone and create a positive work environment for yourself and co-workers." – J HC "jecarter2"
"Tom Dowd is open about his own shortcomings, his recurring resistances to seeing himself as the problem, and his acceptance that he could improve his life and reach his goals only when he does not resist the necessary introspection and changes. He wrote his story in the first person to ensure that readers understand how personal this is. Readers will begin to wonder just how resistant they are and how they could make the changes that Tom makes. Of course, it's when you begin to ask yourself these hard questions that you begin your own journey of transformation." – Susan G. Trivers "The Speaking Coach"
"What a great read! It gave me the opportunity to be myself and become a high performer! Each chapter is just the right length to get the point across and give you that 'Ah-ha' moment that provides another method in the quiver of working in the professional workplace."- JMC
"The Transformation of a Doubting Thomas" by Tom Dowd is an outstanding book. It is an extremely thoughtful, insightful and interesting take on how to thrive and lead in the corporate environment. It is particularly relevant to employees in large companies who have leadership potential, but who are not optimizing opportunities or are unsuccessful in bids for desired roles. The writer is candid about his mistakes and failures. He inspires the reader to learn from experience and to overcome obstacles to success. This is the first book of this genre that I have read and I did not think that I would like it when it was recommended to me. After reading it, I could not be more supportive and willing to recommend it to others." – Anne P.
"This is an excellent collection of stories that allows the reader to follow the shifts in thinking, attitude, situations and relationships that result in the continual transformation of Thomas Dowd. The book has 66 segments that provide succinct insight into his passage through "self-awareness, belief and action". I enjoyed reading the book and see changes that I can embrace for my own transformation! I love that Mr. Dowd encourages us to not resist, resent and ignore feedback but rather to accept it and do something about it. I know I will pick this book up often and reread a particular passage to remind me how I can adapt to new situations. Thank you!" –Lynne Snow
"I have read several leadership and management books, but this book really stands out because of the practical and heartfelt approach of the author.  The book's organization makes it accessible to specific challenges that I am facing.  The anecdotes are clear, concise, and presented in a very honest way.  It allows you to connect and see yourself making better decisions and taking better actions to get the results you want.  I highly recommend this extremely helpful book." –Erin of The Sisterhood of the Sensible Moms
"I have just finished reading the compelling story of "The Transformation of a Doubting Thomas". Even though I do not work in the corporate world, the lessons and changes that Thomas Dowd suggests are every bit as applicable to working in the private sector and more importantly (I think) to ones own personal life. Mr. Dowd has an honest and straight forward writing style which makes his book most enjoyable to read. He does not preach about how to make changes in ones life, rather, he guides you towards your own transformation. Very Well done!"  -PBR
"I really enjoyed this book. It was motivating and an easy read. It is written by a professional who is honest about his own challenges and mistakes, giving helpful guidance to professionals just starting their career and even for the seasoned leader. Mr. Dowd opens himself to the reader in a way that they can see themselves in his words. Thank you for sharing your insight and words of wisdom with others. Can't wait to read your next book!" – L. Kelly
"This book is a honest and insightful look into the ups and downs of the authors career in the corporate world. He takes you on a journey of true transformation and shows you how you can transform yourself into becoming a better person, leader and communicator. I don't even work in the corporate world but many of his stories you can relate to even if you work in a totally different profession. The book really forces you to examine your own behaviors and attitudes and whether or not you are truly working smarter! That is one of the messages that really resonated with me. If you are looking to re-examine how you work in your profession and what you can do better to climb that ladder, than this is the book for you!:- chrystie
"I really enjoyed this book. The reader can really relate to Mr. Dowd on a both a professional and human level. I recommend this book to people who want to further their career and are willing to admit that they might be the ones who need to change in order to move forward. I enjoyed the readability of this book. It is written in a similar style to Dr. Richard Carlson's "Don't Sweat the Small Stuff…and it's all small stuff". He uses short, concise chapters and there is a certain comfort level that makes it easy for the reader to relate to the author." –pwwill
"I read daily before I go to sleep.  While I am in the middle of reading of another book, I finally received yesterday a book written by Tom Dowd (The Transformation of a Doubting Thomas: Growing from a Cynic to a Professional in the Corporate World).  I was quite curious and thought to just read a cover and the last page with an intend to finish my other book.  However, Tom's book is an excellent read and quite a compelling story of Tom.  I made immediate switch and can't wait to get through it.  It is very well written book in a format of short, concise chapters  that are very easy to relate to Tom's story."  – B.H.
"This book is a honest and insightful look into the ups and downs of the authors career in the corporate world. He takes you on a journey of true transformation and shows you how you can transform yourself into becoming a better person, leader and communicator. I don't even work in the corporate world but many of his stories you can relate to even if you work in a totally different profession. The book really forces you to examine your own behaviors and attitudes and whether or not you are truly working smarter! That is one of the messages that really resonated with me. If you are looking to re-examine how you work in your profession and what you can do better to climb that ladder, than this is the book for you!" –Matt
"Just as the subtitle states, this is indeed a practical guide to public speaking success — And one that I can attest firsthand works beautifully. I've used the tips and techniques Dowd espouses in my own life as an author tackling the formidable world of readings and speaking engagements, with great success. Dowd writes with compassion and humor of the struggles he faced with his own sometimes-crippling phobia, then provides readers with tools they can implement in their own lives in order to begin overcoming this all-too-common affliction. What sets this guide apart from others like it is Dowd's ability to be an inspirational force for his readers without ever coming off as hokey or over the top. The writing is fluid, the tips simple to put into practice on both a small and large scale, and the final product is one anyone who has struggled with public speaking will find themselves returning to time and again." – Jen Blood, Amazon-bestselling author of the Erin Solomon mysteries
"I read few, if any, "self-improvement" type books, and I avoid Dr. Phil like his show was a bedbug-infested pillow. Until recently, my interpersonal communication skills were good enough to get by. However, after publishing my first book, I started receiving invitations to speak to audiences. Fortunately, I was already familiar with Tom Dowd, and actually heard him speak about "public speaking". Tom is an excellent orator, and he genuinely enjoys connecting with an audience. So, we did a book exchange, and I walked away with his tome, "From Fear to Success: A Practical Public-speaking Guide". Anyhow, Tom's book lingered on my nightstand until my latest book came out, and I received another round of speaking invites. Thankfully, Tom's book has been excellent resource. He presents his material in a personable and understandable manner, and he reiterates important points in a way that doesn't seem repetitive. Tom gives much credit to those he has learned from. I especially liked what he wrote about practicing your presentation. "I learned if I could do it well in front of my wife, then a couple hundred people would be easy." From my perspective, that's a very true statement.  "Reduce personal distractions" Meaning, shuck the cell phones, work badges, and swinging jewelry. Seems like an overly simple bit of advice, but I've observed a couple of lecturers interrupted by their own ringing cell phones, and there's a TV news anchor in my area, who has a penchant for gaudy necklaces. My wife and I spend appreciable time commenting on her bling instead of listening to the breaking news. I highly recommend this book to those looking to improve their public speaking skills."  – HSC
"It is well organized and allows you to look for and easily find specific topics when you don't have the time to read the entire book before your presentation. Both professionals and novices can learn from the practical and smart tips shared." – Julia Carpenter 
"I loved this book. From its compact size, unique cover design and simple format this is a book anyone can use. Whether you are a corporate exec, a middle manager or a small town board member From Fear to Success is a valuable book. The short chapters allow the reader to quickly glean nuggets of information to enhance the work experience – especially that which involves public speaking. I commend Dowd on his ability to share his missteps and learning experiences in a straightforward manner all to the reader's benefit. His practical approach to speaking in public is something I would have loved to have learned as a young corporate exec in NYC. Stepping straight out of college into that environment was intimidating and foreign. Dowd's book should be handed to every new employee of small to large companies as a guide to meetings, presentations and general office conduct. Thanks to Mr. Dowd for sharing his years of experience." – BC
"For someone who doesn't have a lot of public speaking experience or avoids public speaking opportunities, "From Fear to Success" is an extremely valuable tool. Thomas Dowd III does a great job breaking down the components of a great speech, the traits of a successful public speaker, and provides an easy-to-follow guide for the reader to overcome the various challenges inherent to Public Speaking." -S. Palleschi
"A must for audiences 1 to 1,000! No matter how experienced a communicator you are, you will find a gem in every section of this book! Tom goes through the basics providing a primer or a skill sharpener that fits all levels. Great material filled with 'how to' instructions and Tom's own stories make this entertaining and memorable whether your reading or listening to the audio version. Quick, purposeful chapters make it a usable tool for mentoring and training." – Amazon Customer
"An in-depth look at why a person may be fearful of speaking to a group, large or small. The author goes into detail about what the speaker may be feeling and why they may be feeling that way. He gives several ways of dealing with various fears, as what works for one person may not work for another. Mr. Dowd shows how to prepare a speech, from researching it, to writing it, to practicing it, to presenting it, to the debriefing you may give yourself after speaking." – J. Stock
"Eureka! This is the word that instantly came to mind after reading Tom Dowd's book From Fear to Success.  If you are determined to overcome your fear of public speaking and to improve your speaking skills, this is a must read! It's a great guide that offers pages and pages of valuable advice, written in a way that is easy to read and understand. It's obvious from the first page right to last that Tom is on a mission to help us all become better speakers. I highly  recommend it to anyone interested  in  public speaking." – Fred Strout (ACB),  Kennebec Valley Toastmasters
"Tom Dowd's book is a must read for anyone interested in improving his/ her ability to speak in a public forum. It is clear, to the point, and a most useful tool for those of all ages hesitant to speak in front of an audience. All in all, a great read." – Stanley Weimer
"The crowning achievement of this book is how effectively the author weaves in the real life of an ordinary guy, a shy, introverted person, with the relatively major achievements and successful industry techniques that brought, and continue to bring him success. Having these straightforward steps that, when seen in this book, appear within reach to nearly anyone; knowing that these tools and this advice are essentially all you need to know to start building your own presentation skills and public persona, is a huge confidence booster.  What separates this book from other similar books I've read is the down to earth stories the author tells about his journey; how relatable it is to regular people. We don't see him as some grand politician or public figure, rather as a regular guy. The reader can picture him living his normal life while also building amazing success on this journey. Disarming the reader with this approach makes it so much easier to imagine doing the same thing yourself, and effectively eliminates any excuses not to give it a shot. To be sure, as I continue my own journey to improve my public speaking skills and outward persona, I will be keeping this book close by." – Jeff
"I'm a really big fan of how this book was written!  For me, the issue has never been getting in front of a group of people, I love that.  However, I have been known to take the long way around a short story.  So Make your message count" had some great suggestions in it for me. The section regarding "The audience" had a lot of great insight into making sure that my message was pertinent to the people I'm speaking to.  It helped me understand that the same topic or speech that I might give in one venue could be used in another, but might need to be tweaked to hold the interest of my current audience.  Under "Ideas and presentation" I realized that there's more opportunity for me to practice my speeches, and enhance them with various things like visual aids (something I had always considered to be a difficult concept).  Finally, "Stir emotion".  I've never had an issue with getting humor into my speeches and presentations, but it's always been difficult to be vulnerable with my audience and I gained some valuable insight.  For anybody who is new to public speaking – or old hat, this book has a wide range of information.  I found that while each chapter builds on the one previous, it doesn't need to be read in order.  Pick a topic you need to work on, and feel free to move around.  It's a very easy read, but packed with lots of personal experience stories." – Gary Boynton
"Getting ready to speak in public can create a wide variety of symptoms.  For Tom Dowd it's heat running up to his face and head, heart palpitations that cause tension and fear.  For me, it not heat, it's cold.  I'm freezing.  To the point that when I have to speak on a conference call from my desk at work I have to put on a sweater and wrap my legs in a blanket.  Fortunately, I have been able to alleviate a big part of this fear of public speaking by reading "From Fear to Success."  In the book Tom provides practical advice on how to conquer one of the most common fears that we all have had to face at one point or another during our lives.  The best part about Tom's book for me is that I don't use his advice just when I have to make a presentation at work.  I've found that by following the simple rules in his book that I am a better communicator in everything that I do.  I feel more comfortable sharing my thoughts and ideas and I've found that my daily interaction with people have improved as a result."  – Patrick Rockenbach
"Similar to another review, I consider myself a fairly confident speaker in group settings. I think I am comfortable and conversational but I am not always in control of the outcome of the presentation. What this book focused on was the basics of self-awareness and preparation to ease the most common of fears…. public speaking. While it covers sweaty palms, pounding head, and paralyzing physical symptoms some experience when standing in front of a group, the chapters on preparation and self-awareness were the most helpful to me. The books focuses on the need to consciously prepare to not only deliver material but HOW to deliver that material and will undoubtedly make my speaking more effective and drive greater confidence in my recommendations. This is a back to basic approach with tangible, actionable tips to move from fear to success … or as I think of it – mediocre to confident, relaxed, and effective in group presentation settings." – Kim Mitchell
"I have not yet in my career met someone who has not had anxiety around speaking in public. The symptoms of anxiety: Shaking ,nervous stomach, sweaty palms, the "um's, the "Ah's" all goes with it and can often build up to a moment when most want to say, I can't do this! Tom has been there and now is giving you the tools to overcome your fears and become the best speaker you can be. By following his lead and applying the knowledge from his experience you will speaking with a lot less anxiety in no time. This book is a must read for anyone who want to improve their speaking skills and overcome the fear and anxiety that goes with it." – TLW
"Being a leader in business needing to evolve as a communicator put the author in a unique position to articulate a road map for success. Helping understand the natural challenges, providing universal examples and equipping the reader with concrete tools to improve, Mr. Dowd brings to life the art of communication in a practical and useful way. No matter how good you are a speaker you can always get a little bit better and "From Fear to Success" provides great food for thought in this regard." – Bill Bowlsbey
"Before reading this book, I took it for granted that my ability to communicate effectively has a direct impact on my success in life. Whether interacting with new people who later become acquaintances, friends and allies, or unknowingly "interviewing" for a job months before the job even exists; whether giving a formal speech to a packed auditorium, or proposing a friendly toast to my spouse, being an effective communicator in life is akin to a mountaineer being able to read a compass. It's absolutely essential. From Fear to Success…, as the title indicates, is a guide. This is important because when learning a skill of such great significance as effective communication, one need not get bogged down in theory or the great speeches in history. Those can be located later on. What one needs straight away are quick lessons that can make an immediate impact on one's abilities. This book succeeds beyond all others that I've read on the topic; it distills and elucidates. Succinct chapters and skill-building exercises fill this well-organized book's small, square footprint – it's about the size of three iphones and as thick as two bucks worth of quarters. In other words, I never felt daunted at the prospect of picking it up off the table to help me undergo my public speaking "treatment". Too many self-help books are unabridged tomes rivaling the density of Shakespeare's complete works; they're too easy to put off for later. Mr. Dowd, however, does a great job of telling us only what's essential for our success as speakers, and he does so in a friendly and humorous way, with a genuine desire to share his experience and insights. I strongly recommend this book to everyone, from warehouse laborers to business executives, from physicians to auto mechanics. It will help to develop and refine a skill that's far too important for anyone to ignore.
" –
Carmine
"This books works well in the classroom and in the real world. It is a warm accessible introduction to successful public speaking and covers the subject thoroughly and thoughtfully. Thomas Dowd clearly explains why it is necessary to have this skill for most all of us and how to acquire it. This book, and a good measure of experiential feedback such as supportive teaching/mentoring and the practical review of video presentation, is all that is needed to advance to a high level of public speaking. Buy this book for anyone with a job that requires professional communication and for anyone entering college.
" –
Sisters&BrothersProduction
"Tom writes "Learning to get over my stage fright saved my career and created an abundant amount of new opportunities to succeed." And he goes on to show readers how they too can overcome stage fright, which only exists in your mind. Tom's straightforward approach to move from 'change-thinking' to 'change-acting' gives readers many steps they can easily take to become confident and eager public speakers. As he says often "public speaking is everywhere" so why not reduce your fear, learn how to speak skillfully and enjoy your moments in the spotlight." – Susan G. Trivers, "Great Speaking Coach"
"I have always considered myself a pretty good public speaker. I actually enjoy it and don't mind speaking in front of large groups which many people wouldn't dare to say. After reading this book though, it gave me much more insight in to just how to become an even more effective speaker. It really showed me how to shape your message and how to deliver it with power and clarity. The tips are easy to understand and easy to apply. I would highly recommend this book to anyone who has even the slightest fear of public speaking. It will definitely help you!" – chrystie
"This is a must read for anyone who wants to improve their communication skills.  One on one, or in front of a group you will benefit from all of Tom's insight.  This is not just a one time read.  The book is laid out so well that it makes an excellent resource book to reference whenever a speaking/communication challenge arises." –Bill Packard
"Whether you are speaking to a group of your peers, a large audience, or a group of parents at a little league game, effective communication is necessary for you to be successful. Most people have room to improve in the public speaking arena (I know that I certainly do) and this book is loaded with great practical advice to help you along the way. From how to reduce your fear, get the audience's attention, or how to have a better stage presence – this book has something for everyone. I really enjoyed how the lessons are broken down into bite size pieces of useful information. This is one of those books that I will be pulling off of my bookshelf time and time again to help me along my speaking career."- Joe
"Just as the title says, this book gives practical and effective public speaking tips that truly work! I have never been one to enjoy getting up in front of other people and speaking. I loathed all the public speaking classes I ever had to take and experienced all of the anxiety and sweats that the author speaks to in the book and more! After reading this book though, I actually feel like I have more confidence and less fear when I have to give a presentation in front of colleagues. The two tips that stuck with me and ones that I have applied are finding the humor and remembering that less is more!" – Matt
"
Eureka! This is the word that instantly came to mind after reading Tom Dowd's book From Fear to Success. If you are determined to overcome your fear of public speaking and to improve your speaking skills, this is a must read! It's a great guide that offers pages and pages of valuable advice, written in a way that is easy to read and understand. It's obvious from the first page right to last that Tom is on a mission to help us all become better speakers. I highly recommend it to anyone interested in public speaking." – 
Fred Strout ( ACB), 
Kennebec Valley Toastmasters