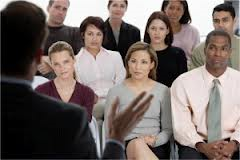 Audio clip: Adobe Flash Player (version 9 or above) is required to play this audio clip. Download the latest version here. You also need to have JavaScript enabled in your browser.
"From Fear to Success" Audiobook=Make the Speech about Them, Not You
Audio clip: Adobe Flash Player (version 9 or above) is required to play this audio clip. Download the latest version here. You also need to have JavaScript enabled in your browser.
"They" in this case is the organizer and the people who will be attending the function. Do you know if what you plan to say matches the theme of the overall program, convention, or event, or have you made assumptions? You should ask these questions ahead of time, to prepare yourself for the event: How long do I have? What time do I go on? Who is introducing me? Is the audience expecting humor? Is it a keynote address, or is it supposed to be educational? Is it a lecture, and how interactive is the audience expecting it to be?
When speaking with the meeting organizer, you need to get a preview of what to expect. If the answer from the organizer is, "I don't know," then some homework has to be done by one or both of you. Do you know what the expected attendance is? Have you asked if other speakers will be there, since this could influence order and flow? As the speaker, have you done your own research on the organization? Is it possible to integrate some key pieces of information, like the organization's history, into your presentation in order to establish an instant connection? Once you figure out what "they" want, then adjust your presentation accordingly.
Thomas B. Dowd III's books The Transformation of a Doubting Thomas: Growing from a Cynic to a Professional in the Corporate World (Honorable Mention at the 2012 New England Book Festival) and From Fear to Success: A Practical Public-speaking Guide (2013 Axiom Business Book Awards Gold Medal Winner and 2013 Paris Book Festival Honorable Mention).  Audiobook version of "From Fear to Success" is also available! See "Products" for details on www.transformationtom.com.  Book and eBook purchase options are also available on Amazon- Please click the link to be re-directed: Amazon.com
MP3 Downloads of "From Fear to Success:  A Practical Public-speaking Guide" are available at Apple iTunes, Amazon, Rhapsody, Emusic, Nokia, Xbox Music, Spotify, Omnifone, Google Music Store, Rdio, Muve Music, Bloom.fm, Slacker Radio, MediaNet, 7digital, 24-7, Rumblefish, and Shazam "From Fear to Success" MP3 on CD Baby