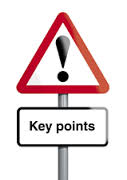 You will want to emphasize key points with the audience but in the
excitement of the presentation, the risk of leaving out one or more of
these key points is real. Have the messages you want the audience to
remember in an easily accessible spot to review before the presentation,
during the presentation, and at the conclusion, to ensure that all
pertinent points are covered. It is easy to get caught up in a discussion
or even go down a different path based on the interaction with the
audience, so it is important that the points you want taken away are
there to reference, to ensure that they are not forgotten.
These points should be written out, bolded, underlined, and reiterated
throughout your outline and eventual speech. They are the focal
points of the presentation, so you should also have indicators written
out for how you want the points to be made. Delivery of these points
can be critical in how your message is received and retained. Your cue
may be adding it to the story you want the point to support, repeating
the line, increasing your volume, or slowing down intentionally. You
don't necessarily need to script out every move you make, although
this might be a good habit early in your speaking evolution. The key
is to ensure that your points resonate with the audience. The goal is to
build muscle memory through practice so that the key points become
so natural that the audience will be scrambling for their notebooks,
saying, "Why didn't I think of that?" Good muscle memory starts with
a good plan.
Thomas B. Dowd III's books available in softcover, eBook, and audiobook (From Fear to Success only):
Now What? The Ultimate Graduation Gift for Professional Success
Time Management Manifesto: Expert Strategies to Create an Effective Work/Life Balance
Displacement Day: When My Job was Looking for a Job…A Reference Guide to Finding Work
The Transformation of a Doubting Thomas: Growing from a Cynic to a Professional in the Corporate World
From Fear to Success: A Practical Public-speaking Guide received the Gold Medal at the 2013 Axiom Business Book Awards in Business Reference
The Unofficial Guide to Fatherhood
See "Products" for details on www.transformationtom.com.  Book, eBook, and audiobook (From Fear to Success only) purchase options are also available on Amazon- Please click the link to be re-directed: Amazon.com