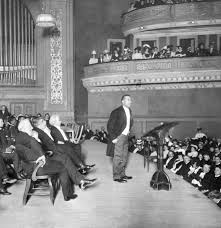 As previously mentioned, friends and family are always great
sources of feedback for your speeches. However, nothing beats the
local flavor of a group of people who may not be as close to the subject
as your friends and family. I can't thank enough the local support I
have received from Rotary Clubs, Kiwanis Clubs, Lions Clubs, and the
YMCA. These organizations present a great opportunity for the community
to see what you have to offer and also serve as a networking
prospect for future public-speaking opportunities. More importantly,
I can test out new material or tweak existing speeches and look for different
audience reactions. Testing this way allows me to receive feedback
that I would have never thought of myself—opinions that may be
diverse and valuable.
Thomas B. Dowd III's books available in softcover, eBook, and audiobook (From Fear to Success only):
Now What? The Ultimate Graduation Gift for Professional Success
Time Management Manifesto: Expert Strategies to Create an Effective Work/Life Balance
Displacement Day: When My Job was Looking for a Job…A Reference Guide to Finding Work
The Transformation of a Doubting Thomas: Growing from a Cynic to a Professional in the Corporate World
From Fear to Success: A Practical Public-speaking Guide received the Gold Medal at the 2013 Axiom Business Book Awards in Business Reference
The Unofficial Guide to Fatherhood
See "Products" for details on www.transformationtom.com.  Book, eBook, and audiobook (From Fear to Success only) purchase options are also available on Amazon- Please click the link to be re-directed: Amazon.com