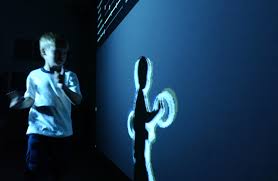 We hear "public speaking" and obviously think about the spoken
words. We invest a lot of time as speakers in selecting the perfect
word for the perfect situation. As we prepare and practice, we should
remember to work on the complete package, beyond memorizing the
words and vocalizing. In our speech development, we sometimes lose
the physical aspects of the speech that can make the presentation come
alive.
Physical aspects of the speech include facial expressions and gestures.
Imagine a speaker sharing a "shocking" story with a blank look
on his or her face. Like a punch line in comedy, you need your face
and body to emphasize the emotions of the words to bring them alive.
In the "shocking" example, you would probably expect wide eyes or a
gaping mouth. Let the audience share the experience with you. Your
facial expressions may not even need words if your feelings can be
seen and related to by the audience.
Gestures are also important in moving the speech along, and you
must remember both the importance of timing and the naturalness
of the movements. You don't want your movements to come across
as staged or prescribed. Although practicing the gestures to get them
to the point where you want them is imperative as you put the whole
package together, you do not want them to come across as acting. The
physical aspects of the speech are one more way to look at the speech
process holistically.
Thomas B. Dowd III's books available in softcover, eBook, and audiobook (From Fear to Success only):
Now What? The Ultimate Graduation Gift for Professional Success
Time Management Manifesto: Expert Strategies to Create an Effective Work/Life Balance
Displacement Day: When My Job was Looking for a Job…A Reference Guide to Finding Work
The Transformation of a Doubting Thomas: Growing from a Cynic to a Professional in the Corporate World
From Fear to Success: A Practical Public-speaking Guide received the Gold Medal at the 2013 Axiom Business Book Awards in Business Reference
The Unofficial Guide to Fatherhood
See "Products" for details on www.transformationtom.com.  Book , eBook, and audiobook (From Fear to Success only) purchase options are also available on Amazon- Please click the link to be re-directed: Amazon.com