This past Summer, just after my fiancée moved back to New Hampshire, I faced a dilemma. The back lawn at Tina's house hadn't been mowed in quite some time, and the neighbor's plants had decided the grass was greener in her yard. The root system of the vines next door had invaded…with a vengeance (or is that a vine-geance?).
The Jurassic lawnmower in the shed had last been started during Clinton's first term. It took just 2 pulls before the cord frayed and snapped, leaving me on my butt with the handle and 6 inches of rope still in my grip.
I instantly pronounced Tyrannosaurus Rust officially 'extinct'.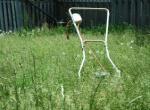 Dejected, I trudged to the car for my 100-foot extension cord so I could power up the electric weed-wacker. Needle in a haystack? That was me, as I was essentially trimming a hayfield one flailing swipe at a time.
After completing about 1/3 of the back yard in an hour (and dripping with sweat) Tina and I (mostly me) made a decision: it was time to invest in a new lawnmower!
A quick trip to the hardware store (with a cool coupon, Tina's a smart shopper) meant a ride home with an extra passenger: a bright and shiny new Husqvarna self-propelled mower. After minimal assembly, and a check of this unfamiliar yard for rocks and branches, I was off!
It took less than 15 minutes to finish the job, completely and effectively.
Ever feel you're trying to do YOUR job with inefficient tools?
Is your support team suffering a similar fate?
Are you lost in a huge 'business' hayfield armed only with a weed-wacker?
Perhaps this week you can invest in yourself, and your tool arsenal, becoming more efficient and empowered.
Could your technology use some updating?  Has a new book or audio product been created just for your industry?
Is there a conference which could serve to inspire and educate your team members to play at the top of their game?
Please do not continue weed-wacking in the endless hay-field of Big Business and the Web!
Here's to YOU, my friends: may you honor your mission by arming yourself with more effective tools.
The most powerful one is your mind. That's a good place to start.
Fire it up and clear out everything that's in your way, powerfully and efficiently!
Steve desribes himself as,"I am a regular guy from a blue-collar background who followed his dreams, survived the speedbumps and a few rollovers."  Steve is a professional speaker, entertainer and author,with a goal to become the most AUTHENTIC movtivational voice which has ever graced a stage.  As a fellow member of Toastmasters and the National Speakers Association, I can say that Steve's voice is not only authentic, it is being heard by many audiences.  I applaud Steve's success and wish to share his AUTHENTICITY with my own audience.  Thanks for your contribution Steve! Please feel free to share and add your comments.
Steve Gamlin's contact information:
P.O. Box 5
Goffstown, NH 03045
(603) 560-3360