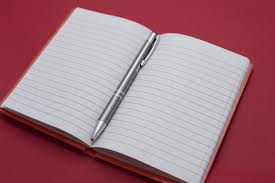 [audio:https://www.transformationtom.com/wp-content/uploads/2014/02/42Chapter-56.mp3]"From Fear to Success" Audiobook = Keep a Notebook Nearby
Ask me what I had for dinner last night and there is a really good
chance I won't remember. Not many of us can easily come up with what
we ate without really thinking about it. Now think of the greatest speech
idea you ever had, but can't remember. How many times have you been
driving down the road or woken up in the middle of the night thinking,
"Wow, I need to remember that," or, "I should do a speech on that," or
some other iteration, then kept on driving or fell back to sleep and never
remembered what it was? The easiest way to solve that problem is with
a notebook or folder nearby. I keep a notebook on my nightstand and
a folder in my laptop bag, which is typically always near me. I simply
jot the idea down and toss the paper back. It can be one word or a short
sentence. Write down whatever is enough for you to remember. Notice I
didn't say write out the entire speech. You can let the idea stew and grow
in your mind while it's in the notebook or folder. The idea will continue
to nurture and develop itself over time. Go back to it when it is time, and
start outlining the message and content. You will be shocked how easily
the speech flows because your mind has been running in the background
with this topic, simply because you wrote it down.
Thomas B. Dowd III's books The Transformation of a Doubting Thomas: Growing from a Cynic to a Professional in the Corporate World (Honorable Mention at the 2012 New England Book Festival) and From Fear to Success: A Practical Public-speaking Guide (2013 Axiom Business Book Awards Gold Medal Winner and 2013 Paris Book Festival Honorable Mention).  Audiobook version of "From Fear to Success" is also available! See "Products" for details on www.transformationtom.com.  Book and eBook purchase options are also available on Amazon- Please click the link to be re-directed: Amazon.com
MP3 Downloads of "From Fear to Success:  A Practical Public-speaking Guide" are available at Apple iTunes, Amazon, Rhapsody, Emusic, Nokia, Xbox Music, Spotify, Omnifone, Google Music Store, Rdio, Muve Music, Bloom.fm, Slacker Radio, MediaNet, 7digital, 24-7, Rumblefish, and Shazam "From Fear to Success" MP3 on CD Baby