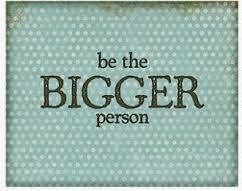 I started working for someone whom I felt talked behind my back and was making a major effort to push me out of his department. Prior to him joining our department, I had been put into a temporary position managing managers and felt I was on my way to a promising future. My bad feelings were confirmed after his arrival a little over a year later when I was removed from my position and asked to take a step back. My backward movement was to some degree a self-fulfilling prophecy because I was not motivated to work for him. However, I also could not seem to break through to find what it would take for him to change his mind.
Although I was not motivated to give him my best, I did try to hide my outward frustration by burying my head in my work. My goal was to work as hard as I could until something changed. I knew he was under a lot of pressure to perform, but I had the opinion that he spent too much time trying to impress the upper management for his next promotion versus running his own business well. I had some small wins, but I knew we would never find the mutual respect needed to succeed as a team.
We crossed paths a few times over the years and I still boiled over with frustration that he never seemed to respect my work. Years later, I ended up working for him a second time. We had both matured. I saw the relationship dynamic changing because he was not working for the same people he had always been trying to impress. A situation presented itself in which he needed my experience and job knowledge in his new department. He gave me more responsibilities and space to succeed. He allowed me the chance to lead a task force of over one hundred people in a completely different area, with a lot of reign in directing our road map to success.
Our professional respect seemed to be growing. However, the entire tenure of the second round always seemed to have an eight-hundred-pound gorilla in the room. It was the frustration from our first go-around together. We should have had a sit-down conversation and put it all out on the table. We didn't do that. We worked better together in this new partnership, but there was still so much more we could have accomplished if we had just hammered out our differences, or at least gotten over the past.
Soon after the merger, he left the company. I was actually the last person to see him in the hall on his last day. He asked if I would help him take a box from his office to his car. I had a quick thought of, "I can't believe he still wants to put me to work." However, I knew that wasn't his true intention and he just needed a little assistance. Believe it or not, he did have an underlying motivation—even with the impromptu run-in with me. As we were walking out, he said, "I'm sorry." He went on to talk about all of the pressures he had been under during our first time together and how he had wanted to climb the corporate ladder as quickly as possible, even if it meant stepping on people. He was confessing his own learning to me and confirming that my original opinions weren't too far off.
I realized that if I had taken the first step by stating my opinion years ago, I could have avoided a lot of the uncomfortable feelings we'd had. He took the first steps and told me all the great things he appreciated about me and the respect he had gained from my ability to work through the difficulty he had put me through. I felt guilty for not making the first move but was proud of my ability to force my way through the hard times. I also gained a lot of respect for him for taking advantage of the current events to make a difference in our relationship.
I know it has a lot of similarities to a death bed conversation we would have wanted to hear earlier in our lives from that person. However, I had the luxury of still living in a small New England town with this individual. Our interactions in town are cordial and personable. He ended up getting a new job in one of our old buildings right up the road. I was driving home and passed his building on a Friday afternoon. We stopped and talked. He needed leadership help in his new business and asked if I would join. I did not take him up on it but carried the valuable lesson of what can become of being the bigger person.
Thomas B. Dowd III's books available in softcover, eBook, and audiobook (From Fear to Success only):
Now What? The Ultimate Graduation Gift for Professional Success
Time Management Manifesto: Expert Strategies to Create an Effective Work/Life Balance
Displacement Day: When My Job was Looking for a Job…A Reference Guide to Finding Work
The Transformation of a Doubting Thomas: Growing from a Cynic to a Professional in the Corporate World
From Fear to Success: A Practical Public-speaking Guide received the Gold Medal at the 2013 Axiom Business Book Awards in Business Reference
The Unofficial Guide to Fatherhood
See "Products" for details on www.transformationtom.com.  Book and eBook purchase options are also available on Amazon- Please click the link to be re-directed: Amazon.com
MP3 Downloads of "From Fear to Success:  A Practical Public-speaking Guide" are available at Apple iTunes, Amazon, Rhapsody, Emusic, Nokia, Xbox Music, Spotify, Omnifone, Google Music Store, Rdio, Muve Music, Bloom.fm, Slacker Radio, MediaNet, 7digital, 24-7, Rumblefish, and Shazam "From Fear to Success" MP3 on CD Baby