Post from Transformation Tom™- Practice Interviewing: Chapter from "Displacement Day: When My Job was Looking for a Job"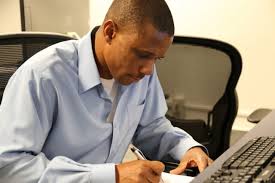 When teaching how to interview effectively, I emphasize the need to
practice, or mock interview. Here are the keys to make the most
of the experience:
• Don't let the word "mock" throw you off—treat it as a real interview
and maximize the experience. Real practice turns into real success.
• Set it up now—it's best to do it before you need it, but if that time
has passed, still set them up before the next big interview is on the
horizon.
• Make it a regular event, not a one-time shot—cramming becomes
obvious. Mock interviews are practice, thus need to be done more
than once.
• Understand it is a learning experience—be willing to make mistakes.
• Meet with multiple people with different styles. Talk with someone
you do not know well.
• If you are currently employed, use your manager in the process, but
understand that he or she does not count as a mock interview. I've
found that when I worked with managers, the questions tended to
be slanted to my strengths or weaknesses, which took away from
the feel of a real interview. Broaden your scope to find the most
effective interview partner.
• Use the exercise as a networking opportunity or a way to get your
foot in a door that might otherwise be closed.
It's important to understand what mock interviews are not:
• An attempt to kiss up
• An attempt to predict questions
• An attempt to articulate answers you think the interviewer wants to
hear
• A working session or brainstorming session focusing on your
strengths and weaknesses—this should be done far ahead of a mock
interview.
Understanding the power of mock interviews ensures that you are
more comfortable in pressure situations, and keeps you sharp for the day
when you need to make the intended impression.
Thomas B. Dowd III's books available in softcover, eBook, and audiobook (From Fear to Success only):
Now What? The Ultimate Graduation Gift for Professional Success
Time Management Manifesto: Expert Strategies to Create an Effective Work/Life Balance
Displacement Day: When My Job was Looking for a Job…A Reference Guide to Finding Work
The Transformation of a Doubting Thomas: Growing from a Cynic to a Professional in the Corporate World
From Fear to Success: A Practical Public-speaking Guide received the Gold Medal at the 2013 Axiom Business Book Awards in Business Reference
The Unofficial Guide to Fatherhood
See "Products" for details on www.transformationtom.com.  Book and eBook purchase options are also available on Amazon- Please click the link to be re-directed: Amazon.com
Do you know about Avanoo.com?  Two-to-three minute eLearning programs that can change your life.
When Your Job is to Find a Job—and Yourself
Manage Your Time—Don't Let It Manage You
MP3 Downloads of "From Fear to Success:  A Practical Public-speaking Guide" are available at Apple iTunes, Amazon, Rhapsody, Emusic, Nokia, Xbox Music, Spotify, Omnifone, Google Music Store, Rdio, Muve Music, Bloom.fm, Slacker Radio, MediaNet, 7digital, 24-7, Rumblefish, and Shazam "From Fear to Success" MP3 on CD Baby