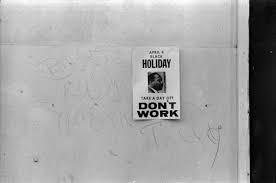 I was once in the middle of transitioning roles, so I met with the person whose job I would be taking over. I asked for a task list so I could get started. He handed me two. The first was a short list; the other was a much longer list, which included all the items from the first as well as several others. I asked him about the difference. He said the short list was the least amount of work he could do in a day and walk out of the office satisfied knowing that all critical items had been met. Since that day, I've managed around the concept of the "least amount of work I can do in a day."
You see, many of us think in terms of the longer list, creating high levels of stress when we don't accomplish everything. We, in turn, push our work from day to day like we used to push our vegetables on our plates as kids. We push it around but does it ever get consumed—or in this case, done?
Create your must-do short list, including what must be done during the day, the week, and the month. What is the least amount of work that can be done with you walking out satisfied that the job was done? The list can be ever evolving and reviewed regularly to ensure it remains updated. As you continue to massage the short checklist, you should
block off the time to do each item by using your calendar as a tool to reserve time for this must-do list. Even if you don't have a designated time for these tasks, block off the amount of time anyway, as a way of acknowledging that they must be done at some point in the day.
For example, you know you need to do an hour of project work over several days. You may schedule it for two hours from ten a.m. to noon, but you can build in the flexibility to move this block of time through the day if something else comes up. Yes, I doubled the time, because if you don't do it today, the work still needs to be done and you've just pushed twice as much work to tomorrow. I recommend that you double all the time you expect things to take. The concept of doubling time is important. If you want to think you need thirty minutes to meet with someone, set the actual appointment for sixty minutes. As stated in the last chapter, expect the unexpected.
Instead of pushing tasks day to day—which actually takes time—start to use the extra time that you build into your calendar to pull in tasks from future days, weeks, and even months out. You must understand that consistently pushing to another day is a red flag. When you can account for the least amount of work that you can do in a day and consider yourself successful, you will walk away satisfied and benefit greatly from the power of the pull versus the push.
Thomas B. Dowd III's books available in softcover, eBook, and audiobook (From Fear to Success only):
Down the Chute: A Toboggan Tale (children's book)
Now What? The Ultimate Graduation Gift for Professional Success
Time Management Manifesto: Expert Strategies to Create an Effective Work/Life Balance
Displacement Day: When My Job was Looking for a Job…A Reference Guide to Finding Work
The Transformation of a Doubting Thomas: Growing from a Cynic to a Professional in the Corporate World
From Fear to Success: A Practical Public-speaking Guide received the Gold Medal at the 2013 Axiom Business Book Awards in Business Reference
The Unofficial Guide to Fatherhood
See "Products" for details on www.transformationtom.com.  Book and eBook purchase options are also available on Amazon- Please click the link to be re-directed: Amazon.com