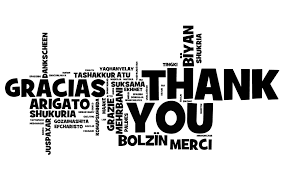 The typical email and instant message exchange at work ends with "thanks" or even "thx," to which the receiver responds, "np" (no problem). People are appreciative of the assistance and support they receive, but it often feels so ineffective because of the overuse of one word: "thanks." There seems to be no time or effort dedicated to it. Don't get me wrong—I'm sure the people I help are appreciative of my efforts. However, the perception of that quick "thanks" because it is more muscle memory than genuine recognition may take away from the heartfelt feeling of that appreciation.
If an instant "thanks" response came within seconds from the person you helped, it probably even caused a little extra effort on your part to go back in and delete it. I have caused some debate at work when I've broached the subject that I have a large amount of "real" emails I need to get to in a day. The point is that I like to be efficient and don't like to waste time. I don't want to be misinterpreted, because I like a pat on the back as much as anyone. However, I don't see the value of a message where someone took an extra six keystrokes and hit send.
I have often struggled with addressing a lack of genuine sincerity of many of these quick and thankless "thanks" responses. My message is that if I do something for you in the course of my normal job responsibilities, I don't need the thank you—I will do it for you anyway. It may be my job, or I want to just help out a teammate. That is good enough for me. If I am constantly helping you out specifically, and you want to invest the time to individually thank me with a phone call or heartfelt email, I would appreciate the gesture and take notice of the invested time you took to do it.
The genuine meaning comes when the receiver perceives the feeling behind the sender's intentions to say thank you. When the sender adds a little note that mentions specifically what they thought was special from you, this little touch makes a world of difference. As a recipient, I feel more grateful for that type of note. As a sender of thank you notes, taking the small amount of time to handwrite one is also impactful. Likewise, adding a few sentences to an email or recognition note will add a smile to anyone's day.
In any case, I won't get into a contentious argument in the professional environment about the etiquette of all thank you delivery and methodology. I simply want to drive home the point to ensure that the recipient feels the effort that you put into thanking them.
Finally, the recognition should also be immediate. I have seen too many examples of formal recognition months after the event that triggered it. The instantaneous response shows you are paying attention—just have it be more than "thx." I like to build time into my schedule once a week for about fifteen minutes to reflect upon the efforts of others to send notes based on recent performance. Try it—you will make someone's day. You do not have to thank every person for every email that you received in your inbox during the week. Try to think of a memorable experience and genuinely thank the people who deserve it—I bet you will have a smile on your face, too.
Thomas B. Dowd III's books available in softcover, eBook, and audiobook (From Fear to Success only):
Now What? The Ultimate Graduation Gift for Professional Success
Time Management Manifesto: Expert Strategies to Create an Effective Work/Life Balance
Displacement Day: When My Job was Looking for a Job…A Reference Guide to Finding Work
The Transformation of a Doubting Thomas: Growing from a Cynic to a Professional in the Corporate World
From Fear to Success: A Practical Public-speaking Guide received the Gold Medal at the 2013 Axiom Business Book Awards in Business Reference
The Unofficial Guide to Fatherhood
See "Products" for details on www.transformationtom.com.  Book, eBook, and audiobook (From Fear to Success only) purchase options are also available on Amazon- Please click the link to be re-directed: Amazon.com